Velvet/metallics/fancies Suppliers.
Novelty velvets, laces, metallics with silk blends & washable polyester fancies. Embroideries, beading (hand & machine), sequins, burn-outs, brocades, jacquards, yarn-dyes. Manufacturer. Import from China, India & Korea. Junior & missy sportswear, evening & dress markets.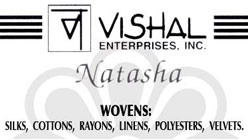 Carry poly/spandex stretch velvet (knit), rayon/acetate triple velvet (woven), silk/rayon velvet (woven), and rigid and stretch cotton velveteens. We also carry an assortment of knitted and woven fabrics with metallic and lurex.
Silk velvet, poly velvet, velveteen, brocades, lame, beaded fabrics, taffetas, satins, laces, tulles, nets & more. Jobber. Full service plus books & shade cards available. Cater to designer & above mens & womens markets, plus home furnishings.
European Collections catering to Couture, Designer, Bridal, Interior & Accessories markets. Collection of allover embroideries, sequins, crystals, foil applications & laser techniques. Rep Jakob Schlaepfer & Filtex-St. Gall. Swiss Made
America's most comprehensive textile source. In stock program in wide silk/rayon velvets, micro velvets, spandex velvets & triple velvets. Also specialize in metallic lame, tulle, spandex foil & novelties. Jobber & importer.
Imported novelty embroideries, lycras, brocades, beaded laces, crepes, satins, poplins, chiffons, metallics, velvets, poly/cotton eyelets & more. Moderate to better. Specialize in bridal & formal fabrics but most suitable for theatrical markets.
Velvet, taffeta, novelty georgette, chiffon, shantung, poly/satin, shimmer & metallic fabrics. Domestic & import from China, Japan, Italy & Korea. Cater to men's, women's & children's dress, blouse, sportswear & eveningwear & bridal markets. Moderate price points.
Velvet, stretch velvet, novelty velvets and velour. Cater to womens & kids active, dress & sportswear. Converter, importer & exporter. Knitting mills worldwide. Also, domestic stock fabrics and overseas garment packages.
Velvets & novelty pile fabrics. Silk & blended velvets, also laces & high end novelty fancies, jacquards. Converter. Import from China, Taiwan, Korea, Turkey. Cater to mens, womens, childrens, contemporary, dress & home furnishing markets. Better to designer price pts.
Flocked velvet, super velvet, stretch velvet & fabrics, velour taffetas, sequinned, shimmers, chiffons, cotton dobbies & other fancies. Cater to womens & childrens markets. Moderate to bridge price points.
Metallics, lame, mesh, velvet and burn-outs. Converter. Domestic & import. Cater to junior, missy and novelty markets. Budget to moderate price points.
Crushed velvet, stretch velvet, stretch velvet prints, velour & velvet with no stretch. Samples available. In stock inventory.
Velvet, lace, burnout, metallic, pleated, jacquard, & sequinned fabrics. Domestic & import from the Orient. Budget to moderate price points.
We are an import textile company established in 1993 specializing in novely fabrics in minky, laces, velvet (stretch and non-stretch), burnouts, fur, jersey & suede (stretch & non-stretch). We stock many fabrics in our LA warehouse.
Oldest U.S. selling agents, established in 1936. Carry velvet, damask, tapestry, metallics, burn-outs, beaded, lame & holograph designs. Cater to womens markets. Moderate to bridge price points. Skype: ettc108
"Fabrics for very gala occasions". All types of metallic fabrics, nets, tulles, chiffon & fabrics with lurex. Import & domestic. Converter. Cater to bridal, evening & dress markets. Wholesale & retail.
World wide - over 1400 silks. 82% rayon/18% silk velvets in solids & burn-outs. Also beautiful metallic silks & printed velvets. Imports from China, Thailand, Korea & India. Samples & catalog available.
Complete source for prints & novelties, such as silk chiffon, silk charmeuse, silk/cotton voile, polyester, cotton, burn-outs, velvets, lace, embroidery, eyelets, jacquards and more. These come in a variety of colors, patterns & effects. In-house design studio. Custom printing.
Vertical manufacturer. Specialize in fine woven velvets for high-end apparel trade, high-end home furnishings as well as industrial applications. Piece dyed and yarn dyed, plain, printed and embossed velvet. Domestic.
Velvets and panes in solids, prints & burn-outs. Crushed velour. Imports from Korea & Taiwan. Cater to mens, ladies & children's popular to moderate sportswear markets.
An importer of basic and novelty fabrics. Basics include bengaline, moire, peachskin, organza, oxford, shantung, suede, taffeta, velvets. Novelties include dobbies, jacquards, metallics and embroideries. Custom constructions and fabrics are made to order.
Full range of stretch and novelty fabrics for dance, costume, gymnastics, cheerleading, swimwear, and active-wear. Includes but is not limited to: Spandex w/ foil, Glitter & Holographic Embellishments, Novelty Velvets, Lace, Mesh and More! We also develop custom novelty fabrics for those who can meet production minimums. NEWEST LINE: NK ACTIVE High quality standards on imported fabrics.
Huge selection of in-stock woven jacquards, tapestries, velvets & chenilles. Made in China, Italy & Belgium. Innovative looks & great values.
Stretch fabric specialist, Italian lycra stock service with 200+ colors. Over 400 stock service fabrics. A large holographic fabric selection, glitters, tie dyes, velvets.
Velvet, taffeta, burn-outs, moire, metallics, lace, lame & sequinned fabrics. Import from Italy and France. Cater to womens sportswear. Better to couture price points.
Brocades, metallics, French velvet, duchese satins, chiffons, organzas, crepes and imported embroidered fabrics. Stock available.
The complete source for laces and novelty knits. All types of fancy laces. Domestic. Cater to all markets.
Fine pile fabrics since 1845. Silk velvet, rayon velvet, stretch velvet and velour. Mill. Domestic & import from China & Korea. Cater to women's bridal, evening & dress markets plus home furnishings.