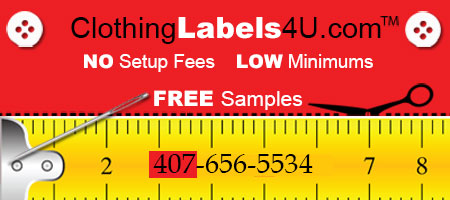 1746 E. Silver Star Road , #200
Ocoee FL
Lisa Rosenberg e-mail
407 656 5534 View Google Map

High quality woven labels, Clear TPU labels, hangtags, thermal printed labels, care labels, size tabs, heat transfers, embroidered patches, iron on & adhesive wovenŐ s, custom work. Cater to apparel, home, bag, foot & accessory markets. Email us for a set of Free samples.
Minimums:150 wovens