Fine shirtings in 100% Egyptian cotton. Solids, piques, fancy stripes, twills, jacquards, cotton/Lycra blends (stretch), oxfords, tone-on-tones, pinpoints, yarn-dyes & more. Import & domestic. Mens, womens & kids markets. Moderate to better price points.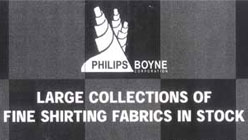 Carry solid, y/d stripes, and plaids on 100% cotton, cotton/spandex and cotton/nylon/spandex poplins.
Cotton rich shirtings in oxfords, stripes and ripstop plain weave. Piece dyed. Cater to uniform and fashion markets. Domestic.
Ready-to-wear collection of novelty cottons & shirtings. Cater to sportswear, womens & childrens markets. Import from Switzerland. Located at the Jakob Schlaepfer Showroom.
Cotton shirtings in twills, chambray, sheeting, poplin & novelties. Will overnight samples. Lowest prices. Cater to all markets.
Specialize in conversational prints on cotton shirting fabrics. In-house design & custom work available. Converter. Cater to apparel, uniform, accessory & home markets. Designer price points.
Shirtings in broadcloth, batiste, sheeting, pique, voile, duckcloth, drillcloth, organdy. All solids. Domestic and import from India & the Orient. Converter. Popular to better.
Chambray, oxfords, flannels, madras, seersuckers, etc. Solids & yarn-dyed plaids & stripes. Large in-stock program in cotton and poly-cotton. Converter. Moderate.
Large in stock inventory of knit and woven fabrics. All types of cottons, denim, shirtings, linens, silks, satins, rayons, poly and blends. Converter. Domestic and import from China, Japan, Italy & Korea. Cater to men's, women's & children's apparel. Moderate price points.
Fine imported shirtings. Cotton dobbies, yarn-dyes, piques, oxford, broadcloth, poplin, prints & more. Import from Japan, Italy & China. Cater to mens, womens & childrens better to couture shirt & blouse markets. Jobber.
Imported cotton, cotton blends, lightweight linen, chambray, yarn dyed stripes and patterns sourced on a per case basis. A limited selection of in stock lighter weight Tencel woven options available in PFD (prepared for dying). Minimum requirements per item.
Supplier of cotton shirting fabrics. Agent. Domestic & import from Europe, Asia & South America.
Full service textile company specializing in shirting fabric. 100% cotton, Egyptian or Supima, also in 65 cot/35 poly. Source globally from 35 countries, specialize free trade area.
All types of chambray, poplin, jacquard & yarn dyes. Imported. In stock.
Chambray, poplin, lawn, organdy, yarn-dye stripes, white-on-whites, tone-on-tones, pinpoint oxfords. Importer, converter. Cater to mens, womens, kids shirt & uniform markets. Better price pts. Carry large stock.
Cotton & linen yarn-dyes, twill, voile, batiste & poly/viscose & poly/cottons for better to designer mens & womens shirt makers. 100% cashmere & cashmere/cottons. Rep Italian, Swiss & Spanish shirting mills.
Solid shirting with and without stretch. Poplins, lawn, voiles, gauze, oxfords, dobbies, & novelties. In-stock program. Domestic & global distribution. By appointment only.